Heat & Glo has established itself as the market leader in gas fireplaces in Australia. Featuring balanced flue technology, which was invented by Heat & Glo – and is now the industry standard. Balanced flue technology has revolutionised gas fireplaces, making them safe, convenient, and efficient.

The Heat & Glo range also features the IntelliFire PLUS™ ignition system which provides increased efficiency and fuel savings… plus ease of operation with the multi-function remote control. Heat & Glo leads the way in fireplace technology and design.

Heat & Glo offer you flexibility and comfort and convenience, not to mention street cred. With its vast range of fireplaces on offer you can install a fireplace almost anywhere.
A Fireplace can be installed ALMOST anywhere!
Add ambience and warmth into your place each winter.
Transform your home with an easy fireplace remodel. In classic, transitional, or modern styles, create instant warmth, comfort, and ambiance with an easy-to-use gas fireplace insert.
Have a whole in the wall? make an old fireplace new!
Restore and revamp the focal point of your home. Our fireplace inserts fit inside your existing fireplace and use gas or electric to create a beautiful fire at the touch of a button. From a simple swap to a whole-hearth remodel, fall in love with your fireplace again.
Make nature your living room and create a private oasis by adding a focal point like a fireplace. 
Adding a fireplace to your home's outdoor area can deliver a refreshing vibe that emphases relaxation and creates a destination for gatherings. For the outdoor area, you can either go with a gas fueled or wood-burning fireplace.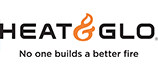 Take a look at some of the gorgeous firplaces that Heat & Glo sell. There is a fireplace to suit any home.